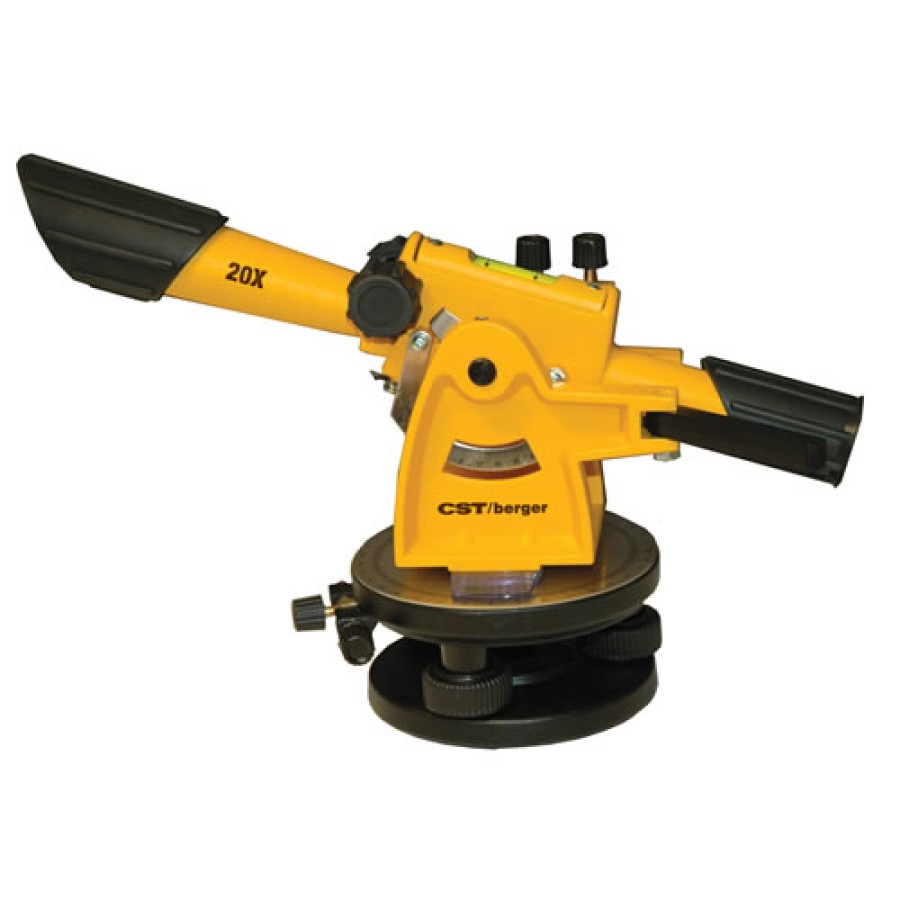 CST/beger 54-200B Speed Line Transit-Level, 20x
Brand:

CST/berger

Product Code:

54-200B

Availability:

10 - 14 Working Days
Tags: AdirPro, Transit Level
The CST Berger 20X Speed Line Transit Level allows surveyors and construction professionals to level the ground, establish pitch and set posts using the 1-degree vertical arc. Featuring an eyepiece with fixed crosshairs, this optical instrument provides 20x magnification and has an integrated 15-minute horizontal circle that enables you to set rough angles.
Precise Plumb and Rough Angles
Does both vertical and level up to 200 feet, the Speed Line has an accuracy of 1/4-inch at 100 feet and 4.5-foot short focus for maximum usable range. It is ideal for rough angle turning and fine-tuning adjustments and has clamps and tangents that bring your instrument quickly on target.
Sharp Image and Reduced Glare
This optical transit level has a large achromatic coated objective lens, high precision glass level vial and built-in sunshade for a sharp image and reduced glare.
Sliding Lock Levers
This CST Berger transit level has a one piece aircraft aluminum telescope and sliding lock levers. It also uses a 5/8 x 11 thread for mounting on tripods.
Non-Strip Focus Knob
The Speed surveying transit level features a non-strip focus knob that prevents breakage and lens damage. It is also equipped with durable brass leveling screws and electrostatically powder coated safety yellow paint.
This CST Berger transit level package comes with an Allen wrench, hard carrying case and 1-year manufacturer's warranty.
---
Features:
- For leveling, setting rough angles and plumb operation
- 200 foot range
- 1/4-inch at 100 feet accuracy
- 20x magnification
- 1-degree vertical arc
- 15-minute horizontal circle to set rough angles
- Clamps and tangents bring your instrument quickly on target
- Non-strip focus knob
- Built-in sunshade
- High precision glass level vial
- Durable brass leveling screws
- Large achromatic coated objective lens
- Dust protected eyepiece with fixed cross hairs
- Aircraft aluminum telescope
- Sliding lock levers
- Electrostatically powder coated safety yellow paint
- 5/8 x 11 tripod thread
---
What's in the Box
- (1) CST Berger 20X Speed Line Transit Level 54-200B
- (1) Allen wrench
- (1) Plumb bob
- (1) Hard carrying case
- (1) User manual
- (1) 1-year manufacturer's warranty
---
Brochure/Datasheet
Instruction manual

---
Catatan:

Harga tidak mengikat, sewaktu waktu bisa berubah tanpa pemberitahuan dahulu